2013-07-12
Today Enzo (Milvest Absolutely Awesome) has moved to his new home in Boden. We wish the family Korpiniemi good luck with their new family member!

2013-06-28
6 weeks old and a really handsome guy already! Today he has been washed and groomed a bit. This guy is still available, just get in touch!

2013-06-21
He's now 5 weeks, and is a really cozy guy who loves to run around. Premiere stay outdoors became a given success on Midsummer Eve. Sure, the grass was a little scary for a while, but soon it was full speed with no worries. This guy is a real treat to whom we have high hopes for :-)

2013-06-11
Yesterday Enzo moved out of our bedroom and into the livingroom. Quite nice to get a good undisturbed night's sleep :-)

2013-06-07
Now Enzo's 3 weeks and have had his first taste portion of solid food which he liked very much. He even took a little walk on the hall floor before he passed out in the whelping box of all the new impressions.

2013-05-31
The world's coolest and coziest kerry guy weighs (just over 2 weeks old) 1008 g today.

2013-05-26
Enzo, that is what we have named the puppy, is growing well. Today he has doubled his birth weight and he now weighs 714 g.

2013-05-16
Now our first kerry litter is born! Enya gave birth to one male puppy, weight 355 g. Mother and son is doing well.

2013-05-14
Today is Enyas 63:rd day of her pregnancy. But nothing seemes to be going on, yet...

2013-04-16
Enya has been to a ultrasonic examination, and it has been determined that she's expecting puppies.

2013-03-13
Liking arises between Lasse and Enya and hopefully we can see the result of it in May...

2013-03-10
Enya and Lasse meet for the first time.

2013-03-09
We start the journey to Enyas proposed.

2013-02-27
Enya comes into heat.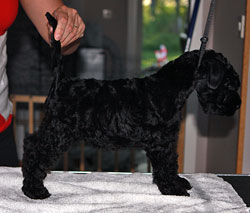 Enzo 6 weeks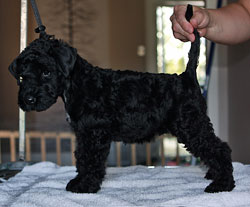 Enzo 6 weeks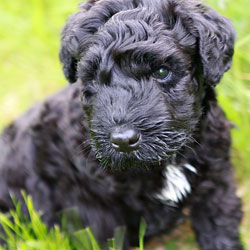 Enzo 5 weeks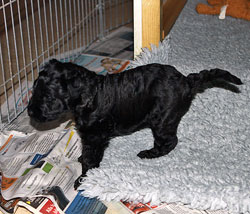 Enzo 3,5 weeks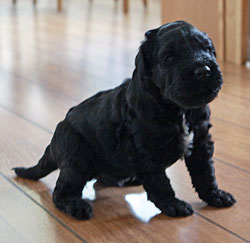 "Enzo" 3 weeks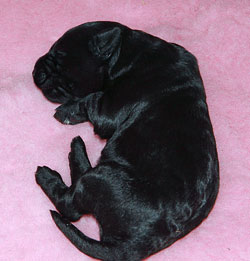 "Enzo" 1 week old.